Bento Bloggers and Friends are doing a series of holiday-themed bento hops! After you check out my lunches here, find the button at the bottom of this post to "hop" to the next lunch in "Santa Claus is Coming to Lunch!"
Santa Baby
GF PBJ, Glutino peppermint yogurt pretzels; organic sugar snap peas, tomatoes, strawberries
12/11/13 -
Little E is really into some Santa movie on Netflix lately, so I made a Santa lunch for her using a
Santa cookie stamp
. I used a
tiny holly leaf cutter
on a sugar snap pea and used the cut-outs from both halves to pair with some small cherry tomatoes to make "holly" in her veggie compartment. I added a
Christmas gift cupcake pick
in with the strawberries and a
"Believe" cupcake pick
with the pretzels to keep with the seasonal theme.
Elf-in-the-Box
GF PBJ, Glutino peppermint yogurt pretzels, Dandies dye-free marshmallows; organic sugar snap peas and strawberries
Santa is nothing without his elfin helpers, so Z got a sandwich made with an elf cookie stamp (Target exclusive, by Nordicware.) For both sandwiches, I used some
India Tree natural food colors
and a cheap paintbrush to color in some details.
In addition to the Santa hat cupcake topper (found in a bake shop,) I used a few snap-pea holly leaves along with some straw-cut strawberry slice circles to fancy-up the rest of the lunch.
Ho-ho-hope You Like Your Lunch!
Dye-free gummy heart, GF PBJ, organic strawberries and kale chips,
Angie's Hollidrizzle White Chocolatier Peppermint popcorn
12/17/13 -
I really wanted to use my
Santa boot muffin cup
, but it's too tall to fit in any of our lunch boxes... except the yubo! I chose the
blue yubo
because I couldn't find my green one! Doh! Blue is wintery though, right? The muffin cup replaced one of the small round containers, and I added in two
medium oval inner containers
instead of the sandwich-sized one that comes with the base box.
I used a Santa cookie stamp (Target exclusive, by Nordicware) for her sandwich, and added in a gummy heart from Surf Sweets (from Valentine's Day! I stocked up!) since I'm trying to include a heart in all of her Kindergarten lunches. So far I'm 50-50. Naturally I didn't notice that the heart was askew while taking pics. *sigh*
A
Santa face ring cupcake topper
and the present and Believe cupcake picks keep the ho-ho-holiday spirit going, along with a red Santa spoon I got from Target last year. Or the year before... Yes, I know. Nothing in this lunch neeeeeded a spoon. Hush. It's adorable and Santa-y. 'Nuff said.
I don't have any Santa ones, so I used a red and green snowman cloth napkin from
Red Poppy Crafts
on etsy folded over the popcorn to keep it in place in the box.
Santa Claus is Coming to Lunch!
Click the button below to check out the ho-ho-holiday inspiration
Eclectic Lamb
has come up with! Then keep ho-ho-hopping through to see all the Santa Claus creations!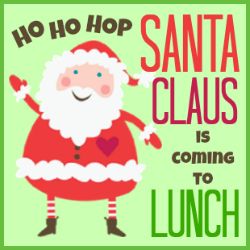 After you get back here, be sure to check out the
Winter Wonderlunch
,
Season's Eatings
, and
Jolly Holiday
hops too!
Tools of the Trade