A quick and easy lunch made fancy by playing with my new veggie cutter! I love how a few simple touches can make food fun, even for Mama!
Wholly Guacamole, organic broccoli, carrots, golden and red beets;
organic salad w/lettuce, radicchio, mixed greens, savoy cabbage, carrot and beet scraps and shapes,
cherry tomatoes, hemp hearts, sunflower seeds, mixed raisins, Annie's Goddess dressing
Tuesday, 4/30/13 - Used my
phoenix veggie cutter
on a slice of golden beet to fancy-up my pre-prepped salad mix (assorted greens and chopped carrot and beet scraps tossed together in a big container that stays ready-to-go in the fridge all week!) I had some carrots and a Chioggia beet flower cut with my
flower veggie cutter
that were left over or rejected from previous Z lunches. Or possibly scraps from other shapes large enough to make flowers just to have on hand. I've been known to do either.
My dry mix-ins are kept fresh and crunchy in a water-tight
Mini Dipper
, ready to be sprinkled on and mixed in just before eating. I put the Annie's Goddess dressing on the salad right after taking photos, as it's not very attractive.
Tools of the Trade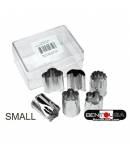 [
This post contains affiliate links.
]