Link up or leave a comment on something new you've made, cooked, done or tried this week!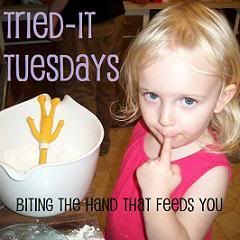 This week not only did I do a craft that didn't involve the Oompa-Loompa, I didn't even let her help! Plus I thought it up myself, which is totally new. Normally I just blissfully steal copy get inspired by someone else. I'm pretty sure someone else has thought of this idea already, but I'm not enough of a savvy crafter to have seen it yet! And I entered it in a contest!

I also started a twitter account and 'tweeted' for the first time. So follow me there, if you're a Twitterer, or let me know how I can follow you!