My girls, especially the 3-year-old E, both love the
Hotel Transylvania
movie (even though the whole concept of having a "zing" is ridiculous and totally against all the lessons I've worked hard to teach them about relationships!) We rearranged some plans so we could see the Sensory Friendly showing of
Hotel Transylvania 2
together last weekend.
So when I had this loaf of gluten-free bread with a giant hole in a bunch of the slices, I got out some
eye picks
and made a
Hotel Transylvania
-inspired "scream cheese" toasted sandwich for my 2nd grader! Totally got the idea from a lunch I saw over at
Lunches With Love
a while back. So fun!
Gluten-free toasted goat cheese sandwich, organic crunchy peanut butter, organic carrots and apples
The arms and legs picks came from a Rose Art Fun Dough Monster Mania set. I choose to turn a blind eye to whether or not they're food safe plastic... They're so cute with those
eye picks
! I stuck another eye in with the apple slices, for good measure. I love how the muffin cup of peanut butter for her apples makes it look like her sandwich monster is losing his kibble. I was tempted to make a stream of chunky peanut butter coming out of his mouth too, but thought that that might be going a little too far...
I used an
orange and black tie-dye muffin cup
for her carrots to make it Halloween-y and monster-y, and used the black lid from the
EasyLunchboxes Urbans set
for the lunchbox.
Tools of the Trade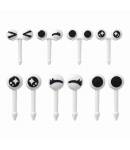 Check out these other fun lunches that utilize the shape of the bread - perfect for easy Halloweenie lunches too!
Another Hotel Transylvania 2 lunch using the shape of the bagel and some plastic fangs to make Vlad by What's For Lunch at Our House
Squashed loaf T-Rex from Bent On Better Lunches
Lumpy bread bear head from What's For Lunch at Our House
Squashy bread monster face from Green Lunches, Green Kids
Kitty cat croissant from Zoe's Lunchbox
Lumpy bagel pumpkin face from Bent On Better Lunches