To celebrate the release of the new Oz movie,
Bento Bloggers and Friends
is doing a Wizard of Oz themed Blog Hop! (Hey, who am I kidding. We don't really need a reason to come up with themed lunches!)
Not only that... we'll be doing TWO Blog Hops! One today (Thursday,) and another tomorrow, the day of the movie release! There will be different lunches in each hop, and we split them up to make them each small and manageable to go through in one sitting!
So have a heart and scroll down to check out the story behind my lunch for Little Z, then click your heels three times and hop to
Mommy + Me Lunch Box
for more Oz fun!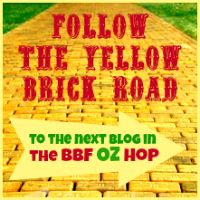 Fly my pretties, fly fly! to see more of my OZ lunch for Little Z in our
PlanetBox
! I went with the MGM movie version for the most part, because it is the most familiar not only to me, but to pretty much everyone else in the history of ever.
We Welcome You to Munchkinland:
I had a
mini gnome cutter
(I found mine on eBay) and thought it would be perfect to make pseudo-Munchkins! There are actually six
gnomes
Munchkins cut out, so it's almost a whole slice of cheese in there.
Ruby Slippers:
Although the magic slippers in the original book were silver, MGM chose to change them to red because they were more visually stunning. I agree! Plus I had this convenient
Ruby Slippers bookmark cupcake topper
from my friend Deb at
iPackLunch
!
Out of all my
fun lion picks
, I chose the
screaming lion
- because he's cowardly, yeah? I couldn't think of anything quick and easy for the scarecrow or tin man, so I left them out. I really only stuck a lion in there because it was just so easy. And the screaming picks (or laughing or singing... your call) just crack me up!
Poppies!:
I used a small
flower veggie cutter
on some organic carrots and Chioggia beets from my weekly farm box. The poppies in the movie were red, but I didn't think Z would buy it if I tried to pass off the bright finger-stainy beets as "sweet carrots," like I do with golden and Chioggia beets. *wink* I love those gorgeous stripes!
I thought the organic edamame pods made nice "leaves" peeking out from underneath. Plus even if she refused to eat the "carrots," she'd probably eat the soybeans!
Follow the Yellow Brick Road:
I made the sandwich with some new
gluten-free cinnamon raisin bread
(ours was made by a local bakery, and I buy it at our weekly produce pick-up at the farm.) Because we were headed to Baby's nut-free preschool, I chose
Sunbutter
instead of PB. And really I was stumped for Oz lunch ideas until I thought of using our new
Barbara's Multigrain Puffins
cereal to make the bricks for the yellow brick road!
I used
alphabet picks
to spell "OZ" (I have two sets, and happened to have both letters in the same color between the sets!)
Fly, My Pretties! Fly! Fly!:
My favorite part of this whole lunch are the flying monkeys! I used my "cheeky"
monkey picks
stuck into the side of the bread and added
wing picks
underneath them. I bought two sets with the monkeys to get two different color combinations. Yayyy! [Look closely. You'll see why we call this set of picks the
"dirty koala" set
!]
Z-omewhere Over the Rainbow
Despite her refusal to wear any other wig that she's made me buy, on the grounds that they are too itchy, she picked out a Dorothy wig on clearance after Halloween. And she loves to wear it - she even wore it to school one day, and made it almost two hours before taking it off! The itch does bother her eventually. But she's willing to power-through because she loves this one so much, for some reason.
So to celebrate her Wizard of Oz lunch, she wanted to wear her Dorothy wig. She's seen the movie once, at Nana's house, but that was a while ago. And somewhere along the line I picked up a used copy of a short picture book of the story. I can't find it online, but the pictures look so familiar, I could swear I had that version as a child. Heck. It could even be the one I had as a kid. I did get some of our kids books from my mom. So we've read that a bajillion times.
Anyway, once she had the wig on (and I had to pull her hair back, since for the first time ever, she was upset that her hair was showing under,) she needed a "beautiful dwess." So we dug through her dress-up chest and she found a princess dress from her Auntie Casi (also Halloween clearance, except even better, since Auntie worked at the store seasonally, and got an extra discount! Scoooore!)
Then of course she needed the crown... and wings...
She threw them down for the photos, but she also had some cheap pompoms I got from Dollar Tree, and was waving them around and making up cheers. Fanciest Dorothy EVER!
Tools of the Trade