AllThingsForSale
is a great place to find all sorts of fun bento gear. Not only do they carry most of the same stuff as the other bento supply sites, but they're based in the US, so you don't have to pay heinous international shipping charges! And if you register, you can save your shopping cart over multiple visits, in case
your husband catches you shopping
you don't have time to look at everything in one go. And, my favorite part - you can set up a wish list! Scooooore! Since you'll want to keep track of all the things to get when your
husband isn't looking
birthday money rolls in.
One of my favorite bento tools from
allthingsforsale
is my
face cutter set
.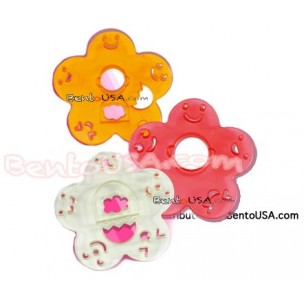 Unlike many picks or cutter sets with specific themes, these cutters are very versatile. You can make people or animals, or add features to cookie-cutter animals.
Or add a face to just about anything!
They are ideal for cutting lunch meats, sliced cheese, fruit leather, egg sheets, and tofu wraps. They also work on nori, cucumber or carrot peels, cabbage, spinach, or other lettuces.
Just look at all the faces in this set! There are 15 faces (#11-15 are smaller versions of #1-5,) 2 heads, 2 circles, 2 long hair shapes (to go behind the heads,) 2 bushy hair/cloud shapes, and 2 jagged bangs (makes great cracked eggshell shapes too!)
Sometimes, to get just the right face, I'll use them along with
nori punchers
...
Other times, I might cut out some features to use with
sugar eyes
.
face #1 (eye used as a nose)
You can use them to cut features out of something...
Top: heads from A, hair from B. faces 3 and 2
Bottom: heads and hair from C, faces 11 and 14
Or use the little cut-outs to add features onto something else.
#13 and #14.
You can even use them to imprint faces into hot dogs (be sure to do it before cooking them!)
Pretty awesome tool set, huh? Want one?
Allthingsforsale
is offering a lucky reader one of their very own!
Giveaway!
Open to anyone, anywhere! And there are four chances to enter:
As an added bonus, she's also throwing in her favorite dip cup set! (I use these for sprinkles or salt too!)
Be sure to leave a separate comment for each thing you did. Also, be sure your Google profile has a way to contact you, or else leave your email in one of your comments. Anonymous entries MUST have their email in each entry, or they will be deleted.
Contest ends midnight, 4/30.

Winner will be selected randomly using random.org. If I select a winner who has no contact information, I will randomly select someone else immediately. If the winner does not respond within 7 days, I will randomly select someone new.
Disclaimer: I was given a set of these cutters to review. No other compensation was given. All opinions, photos (except stock photos from allthingsforsale/BentoUSA,) and lunch designs are my own.
_______________________________________________________________________
Congrats to tiffdance! Please reply to my email within the next week!