I can't think of anything new I did this week. Other than pimp out my husband's blog in a more blatant way, by including it in my giveaway! But I've done a giveaway before... But CSNStores paid for most of that prize I guess (I just paid some of the shipping.)
So... My
first out-of-pocket giveaway
! And my first major followers milestone! [
Major to ME anyway!
] I'm super excited about it, and I've been hoarding stuff, saving duplicates, and buying extras when I see awesome deals, in the hopes of a Muffin Tin Meals swap, like I read about last year. But that didn't happen, so now I get to give it away! I'm super pumped, since I paid only $1.50 each for most of the items (the
Betty Crocker Food Writers
were a few bucks, and the
bento box
was $3. The
silicone muffin liners
were $4. And the metal cookie cutters came in a set, so who knows. But the rest were all $1.50 from Daiso, and a few items were $1 from Dollar Tree!) But the Daiso stuff sells wholesale for the same price as I'm paying retail at their stores, so
allthingsforsale.com
, jlist.com, and vendors on eBay charge $2.50-4 for THE SAME ITEM! Plus shipping! So I love having a super expensive prize pack that cost me a pile less!
OH! OH! I almost forgot! My first ever blogger event!
Blogger's Night Out
! While I don't really advertise it much here, I certainly don't hide the fact that we had trouble trying to make babies, and had to turn to specialists (and a gift of cash from my Grandma.) So while I joke that my Grandma got me knocked up, this little scientific miracle is nothing to sneer at! And it's so hard to talk about, since anyone who hasn't experienced this can't possibly understand. So it was wonderful to meet some local ladies who blog about their trials and successes, and to get advice, comfort and friendship from women who know
exactly
how I feel. Plus... cheesecake! Omnomnom!
Left to right: My friend Sunny from
Sunny in Seattle
, Me; and my
new
friends, Jen from
The Best Laid Plans
, and Katie from
Taking the Statistical Bullet
. The photographer was a wonderful lady, whose story is closest to mine, but she chooses not to have her face linked to her story yet, which I understand and respect. I am so glad to have met these wonderful ladies, and get advice, share stories, and just a chance to talk to people who just...
get it
.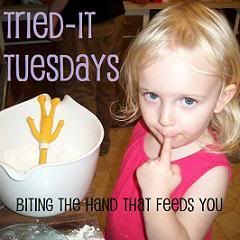 So what have you done this week? Link up or leave a comment on anything new you've done, eaten, cooked, made or tried this week!