Ahoy, landlubbers! Fer National Talk Like A Pirate Day (Yarrr!) some Bento Pirate Captains and I decided to do an extra special Blog Hop, complete with some hidden treasure! Aye! So come aboard and hear all about it!
But first, I made me wee scallywag a special piratical lunch!
Dread Pirate Little Z. Yarr!
Every Bento Blogger Buccaneer in this Hop has a piece o' the treasure map! Ye'll need to "collect" each piece and put them together in the right order to find the treasure! Yarr!
Ye'll want some parchment and a quill, to keep a log wit' each clue and each number, 'cause there be 39 scurvy pirates running amok wit' 39 pieces o' the map to collect! 37 pieces will guide ye to th' hidden treasure (by spelling out th' URL where ye can enter t' win!) plus there be two bonus pieces wit' th' "secret passwords" t' get two entries t' win yerself some pirate booty! Or ye can get fancy an'
print ou' a key
to write down yer clues!
Here's my piece o' the map! Good luck, Mateys!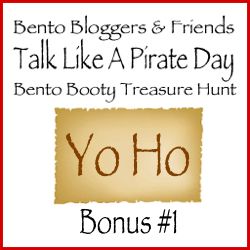 Belay that! First ye should stay aboard and take a closer look at me lunch! Or walk the plank!
Pirate Booty, Purple Kale Chips with carrot Pirate Ship, strawberries and golden raspberries,
ham sandwich on olive bread, mac-n-cheese, hard boiled parrot egg
Pirate Galley:
I used some orange and yellow carrot coins to form my "pirate ship" on a sea of Brown Sugar-Cinnamon Purple Kale Chips. I had wanted to use my
FunBites Luv It! cutter
, but I couldn't find it!
Must be buried under dirty dishes in the sink
It's a mystery!
Pirate Parrot:
I used a
birdie rice mold
and some ingenuity to make my hard boiled egg "parrot." Since these molds aren't designed for eggs, I crammed the egg inside and used a rubber band to hold in the push-flap on the back (it's a flap you can push in, designed to help get the rice out of the mold. Not so helpful with egg, as the egg likes to skish its way out the back!) I put a tub of yogurt on top to weigh the push-insert piece down to help form the egg and imprint the features. I put a paper towel underneath to absorb any egg-juice, since I've learned the hard way that they tend to drip.
I think you only need to let the egg sit in the mold until it gets cold, but I left it a few days overnight, just to be safe.
Voila! I used a toothpick and some
natural food colors
to paint the beak orange (I tried to make it look a little bigger too, more like a parrot) and to paint on some feet. As you can see, the colors bled and faded just a wee bit overnight.
I mixed
yellow and my greenish blue
to make green to paint on a wing and tail feathers. Meh. And I tried straight blue for the eye. Overall I am not disappointed, but the colors really changed overnight. I do know that purple cabbage reacts with egg whites, so that's probably why the blue leeched out of the green.
I sprinkled salt underneath, to soak into the egg overnight, since otherwise she tends to just eat the salt. Just like her Mama! What a weird thing to do...
Dread Pirate Little Z:
I used a
circle cookie cutter
on some artisan Olive Bread (organic, bought at our CSA farm,) to make a sandwich head. I cut a circle of ham to go inside.
A
tiny circle cutter
made some ham cheeks before I used the sandwich cutter to cut the rest of the scraps to fit in the sandwich as well.
The eyes are a string cheese nibblet, cut in half, with bits of sliced olive for the pupils and eyelashes. The mouth is half a sliced olive.
The hair is Trader Joe's White Cheddar Macaroni and Cheese (no fake yellow and red dyes!) and I cut the eyepatch freehand out of some purple cabbage. Yarr!
I added a mini bento fork with an octopus design for her to eat her mac-n-cheese with. I can't find the sea animal set anymore, just the
land animals set
. The larger divider cup holding the sandwich is from Daiso, and I haven't seen those anywhere else either.
She loved her lunch overall, despite arguing that she was NOT a pirate, so why did I make her into a pirate, anyways?
And she didn't buy my "parrot" egg. "Looks like a baby duckling." Ah well.
She ate the Pirate Booty and fruit before school, along with the egg yolk and a few nibbles of sandwich. She ate everything but the kale chips and maybe half of her mac-n-cheese after school. Turns out she doesn't think these kale chips were cinnamon-y enough, so hasn't really been eating them! Noted!
Avast ye scallywags! If you want to enjoy even more piratical fun, enter in any URL at
this link
t' see it translated into Pirate Speak! Yarr!