Keeley McGuire
makes cute and healthy lunches for her daughter, Little Miss. Keeley is another bento-er who makes fairly easy-to-accomplish lunches, but she makes them look amazing! Rather than using an inhuman amount of
crazy
skill to make, say, a life-like portrait of someone out of food, she uses the same techniques I do: cookie cutters, picks, and food markers, usually in an
EasyLunchBox
. Only hers look WAY neater and less hastily-tossed-together than mine do. So I kind of hate her. Just a little bit. Too bad she's so darn NICE.
One of my most recent favorite lunches of hers is the
Reindeer Games
bento (part of her Christmas Countdown lunch series!) mostly because turning gingerbread-men-shapes upside-down and making them into reindeer is just sheer genius! Right? I
soooo
wish I had thought of that first!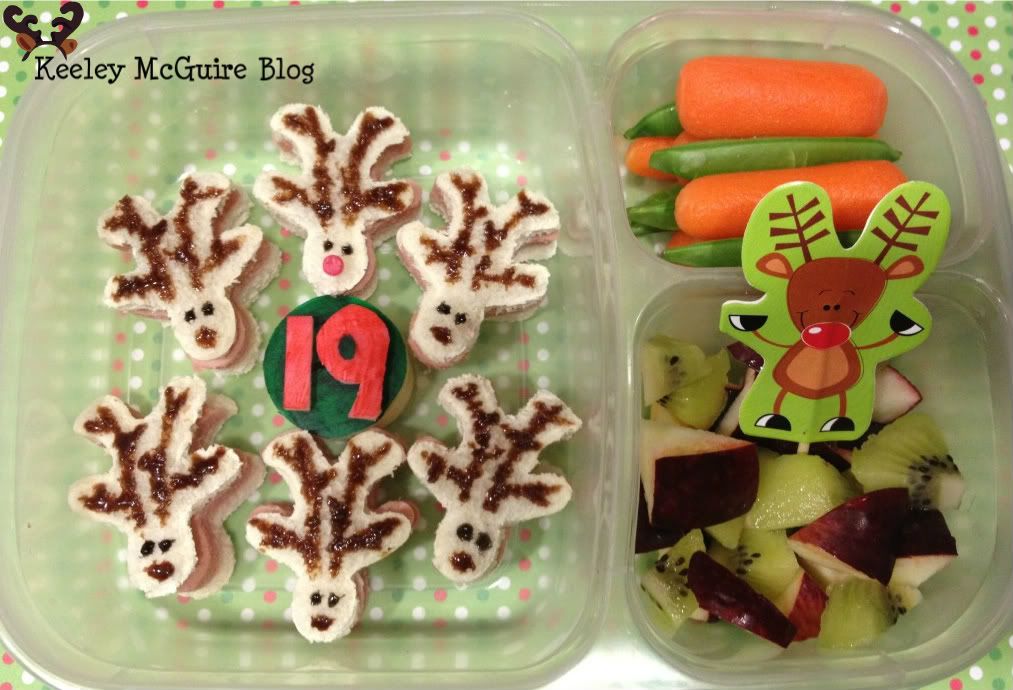 Another fantabulous bento she did was a
Very Hungry Caterpillar
theme. She not only made a caterpillar-sandwich that is eerily similar to Eric Carle's art, but she used a straw to poke holes through all the foods - chosen to match what the Hungry Caterpillar ate throughout the book! And in back she made a beautiful butterfly with Rainbow Goldfish in a baggie and a clothespin body. Too cute!
I almost didn't want to share this one, because
her 3 Little Pigs bento
makes
mine
look like it was slopped together by a preschooler. But it is just So. Stinkin'. CUTE!
Wait, did I say her stuff was all sane and easy to replicate? I spoke too soon. For a
Veggie Tales-themed lunch
, she went all-out. You'll have to read her post to see just how much thought and work she put into this one! I cannot
imagine
going through this kind of effort for anything. Seriously. I mean, I might spend an hour or more making a themed lunch, but it only takes me that long because I'm inept and messing it up, and not because I'm putting
that
much effort into it on
purpose!
Now if all that awesomeness doesn't make you just a
weeee
bit jealous, she also makes food from
recipes
. And
rubs my face in it
posts about it! These
Junior Mint cookies
are making me drool.